Day 23 - Breckenridge CO to west of Canon City, 67.8 miles, 4:57

We left Breckenridge in windy but beautiful conditions, climbed over an 11,542-ft pass and spent the next two hours being blown backwards by miserable wind and cold.
I could see it getting worse on the horizon as I moved toward the rain. Of course, I had left the rain gear on our rig and Connie was at least 60 miles ahead of me by now, right?
Thank God, I was wrong. Just before the I started getting soaked, I was looking for anywhere to take cover. I couldn't find anywhere for miles and then, there go Connie and the kids whizzing by me and pulling over.
They had spent a few hours in Breckenridge, and didn't even know that by doing so, they were saving me from a dreary disaster potentially.
Truth is, I'll never know. God made sure of it.
Sometimes God allows us to get soaked and I think the the lesson is that we have to praise Him in those times too.
Here are some pix from the kids day in Breck: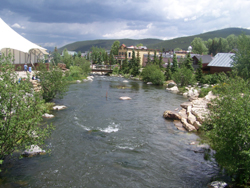 Please check out our Wednesday, June 27 wrap up here...
<<< [ Jun 25] | [ Jun 26 ] | [ Jun 27] >>>

<<< Back to Detailed Route