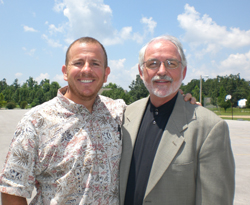 Day 35 - Worship Marshfield MO

It started just like other phone calls in the weeks previous. This one, though, ended in a hug.
"Hey Pastor Clyde, you don't know me," I said, "but, I am riding a bicycle across America for Jesus Christ and I was hoping we could meet with you to learn about your ministry and get to know you a little bit."
We didn't just get to know him, we came to love our brother in Christ, and his entire church family, from the minute we pulled onto the property at Heartland Baptist Fellowship outside of Marshfield, MO.
"I am a hugger," McLain said as I reached out my hand to introduce myself to him.
He met with us Saturday, pretty much on a no-questions-asked basis. And when we got around to asking questions, we learned why this 64-old is shepherding such a wonderful, incredibly hospitable church. He loves the Lord and he genuinely cares about his church family.
We learned on Saturday that the new church building, built about five years ago, was purposefully constructed behind the community park they built with it. It's Heartland Community Park and it's open to the public for picnics and events. Behind the church are basketball poles and a softball field, a field of dreams.
"We went around the community," Pastor McLain said, "knocking on doors, asking folks what they needed most from our church. And what they told us was 'a place for the kids to play'."
For a town of 5,700 people, that's kind of surprising. But nothing surprises McLain anymore as he rattled off a number of major issues facing his area just 20 miles north of Springfield, MO.
"We are one of the highest ranking counties in the country for incest," he said. "We have all the drug and alcohol problems everybody else has and I believe we rank among the top for cigarette smoking too."
Just then, Mo walked in with his dog Rachel. He (Mo) had to drop off a bunch of tables he had in the back of his truck.
"Mo is 82 years-old," McLain explained later. "We met when Mo had an over abundance of manure. He stopped by to see if we needed any. I told him he needed to get back into church, but he said if he came over that the roof would cave in.
"He finally came over to visit while we were under construction, and when the roof didn't cave in, he agreed to come. He's been here ever since."
Sunday morning came, and we were able to set up our table in the narthex and pass out our t-shirts and brochures. We participated in Sunday School class and, later in worship, I got to share what was supposed to have been a five-minute testimony.
Pastor Clyde and I even used the Christ-bike for the kids message during worship.
"This bike wasn't white when we first got it," I said with a wide grin. "It was dark blue and black. We asked Jesus to strip it clean and we painted it white with the name Christ on it. How do people know if you're a Christian, I asked?"
What a blast. And that was just the beginning of our visit.
In another confirmation of God placing us exactly where He wanted us, we learned that the church's celebration of July 4th had been rained out the previous week and rescheduled for Sunday.
We had a grand time at the cookout and the softball game. We got to spend quality time with a number of families and felt so welcomed and at home. Chris and Kim, Saul and Betsy, Kelly and Denise, and more.... They are good. They are the Heartland.
What's a heartland July 4th without fireworks? Pastor Clyde had met with a fireworks guy earlier in the week and that guy turned out to be a Christian and agreed to do the whole show for the church for free.
After the fireworks, I stared over at Pastor Clyde, seated comfortably with a smile like the one you have after eating the whole turkey on Thanksgiving day. "Now that was a real fireworks show," I shouted.
Pastor could only comment, it's the first one I've gotten to sit down and watch. I'm usually the guy out there shooting them off.
That's the spirit of Heartland Baptist. They get things done. They just about built the whole church themselves. They recently put together a cook book as a fundraiser to pay off the building (contact me if you want to purchase one).
It's a classic case of a leader lighting a fire with his own compassion and witness. Pastor Clyde is passing that kind of spirit on to Youth Pastor Chris Harrod (below). He is ready for the challenge.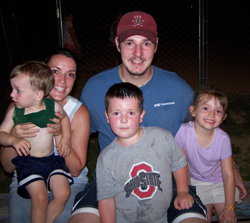 I believe there were people Sunday, who, by the order of God, were there to meet us and vice- versa. It's a humbling thought, but the truth in it is inescapable.
As I rode out of town Monday morning, I got another confirmation. As I rode, I looked around for someone I might recognize.... It is a small town, and I was sad to leave. No sooner than I thought the thought, I head a horn blaring and saw Denise with her arms raised out her car window hollering, whooooo!
Incredible.
Please join me in praying for Heartland Baptist that they would continue to bring Christ into their community in new and innovative ways.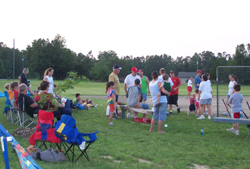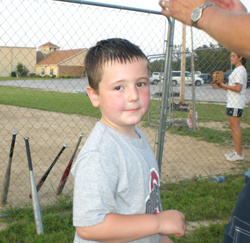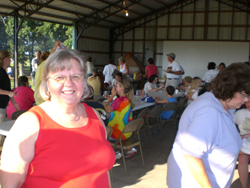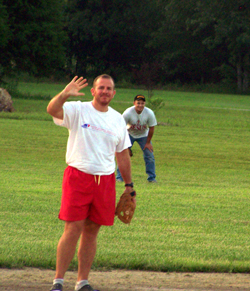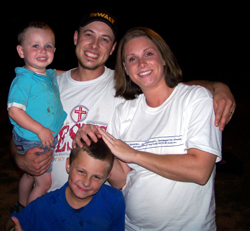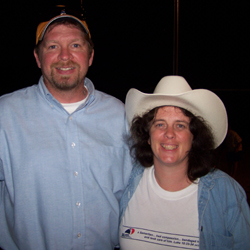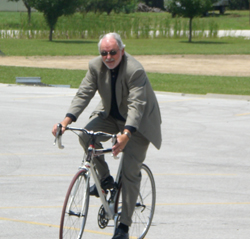 <<< [ Jul 7 ] | [ Jul 8 ] | [ Jul 9 ]>>>
<<< Back to Detailed Route