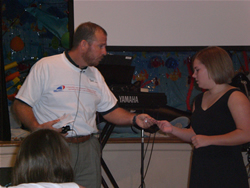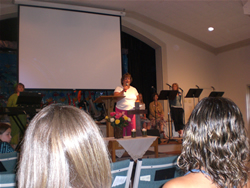 Day 49 - Worship Dublin GA, First United Methodist Church,
God has you exactly where he wants you. Sometimes you may not be able to see it. And others times, it's incredibly obvious.
Our final weekend on the road this summer was shared with the great folks of Dublin, GA at the First United Methodist Church downtown.
Pastor Rick Mitchell, just six weeks into his new assignment in Dublin, knew we had something to share, and he took a pretty big step and allowed us to use his entire sermon time at the 9:00 a.m., contemporary worship. Thank you Pastor, we were really blessed by that.
There are so many stories from the road that we never would have enough time to tell them all, so we told a few. But the focus was on a more personal level. "You don't have to be on a mission trip to be on mission for Jesus," we said. "It's as easy as bumping into people and starting a conversation." We did a role play with a student (above), and tried to relate how easy it is to be on-purpose for Jesus.
We were able to share our personal testimony and explain the purpose of our ministry and mission. We tried to tie a Galations 2:20 life statement to the story of the Good Samaritan in Luke 10:33-34, the verse we have on the front of our T-shirts.
We closed with an invitation from Revelations 3:20 and prayed that everyone in the room who had never accepted Christ, or those who have served Him only half-heartedly, would accept Jesus as their personal savior, and give their lives to Him, completely and sincerely.
It's a simple message that we've crossed the country to tell folks whether it's one-to-one or in a setting like Sunday's. It's right here on the Web for you too.
We had a number of folks approach us after the service and share with us how our testimony had been just what they needed to hear that day. We later learned in Sunday School that at least one young man who was in the room is fighting a chemical dependency issue.
His family was so grateful that God had sent to us to bring a Galations 2:20 message just for him that day. We are humbled and grateful that God allowed us to.
God will use your life for His glory as soon as you get on your knees and stop trying to do it your way. Once you do, you may never really know how or for whom God is using you, but you will know when you get to see Him in face to face.
Every day is one day closer to that for those who have a personal relationship with Christ. Sunday was also one day closer to 40 for my wife, Connie. Our entire team was able to take her out to celebrate Sunday evening. Happy, err, 27th, Honey.
We appreciate everything God showed us during Sunday's visit with First United Methodist, and want to extend again our heartfelt gratitude for the way we were welcomed and totally blessed by everybody there.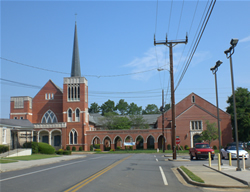 <<< [ Jul 21] | [ Jul 22 ] | [ Jul 23]>>>
<<< Back to Detailed Route